Once you have signed up for the eTEXTco Text Message Marketing Program, you can be up and running with your first text message marketing campaign in minutes!

Here is a quick start guide you can use to quickly implement your first SMS Text Message Marketing campaign.

1. Login to your text message marketing program at login.etextco.com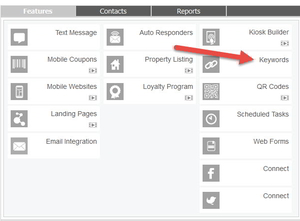 2. Before starting any campaign you must first have a keyword. 
Click the keywords link and choose a short code then generate your chosen keyword. 
If a keyword is already being used in the system you will not be able to generate it and must make another choice. 
Once you have successfully generated an appropriate keyword for your campaign click the close link and refer to step 3.
3.  Now you must create the opt-in ist. 
This is the list that will store your callers when they respond to your promotion by joining your text message program. 
Click "Contacts" Tab then the "Create New" link. 
Follow the prompts to create your opt-in list. 
(If you want everyone that opts-in to your list to automatically get a coupon then before this step you will need to create a coupon under the mobile coupons link in the previous window).

That's all there is to it! 

Now your basic marketing program is ready to go.

Now you can use the autoresponder feature or the text message module to send or schedule future messages to send to your opt-in list once they text into your system.

Everyone that texts your keyword to the shortcode is opted-in to your program and can begin receiving your special offers! 

It's that easy!
Now that you've built your first campaign how do you get people to sign up?
You need to market your program now. You can use our form builder in your control panel to generate to code to make an online form so people can sign up to your text message marketing program from a web page. Then you simply have your webmaster place the code on a page where you want people to be able to sign up. You advertise your keyword and shortcode anywhere you want people to be able to sign up to your program.

If you are a retailer you place something at the point of sale and train your staff on reminding customers to text your keyword to the shortcode in order to sign up for your program. If you have a rewards program you can use our kiosk builder to create a signup kiosk that can easily be placed near the point of sale for customers to easily sign up. (Requires purchase of a tablet, and a tablet kiosk both of which can easily be purchased online inexpensively and an internet connection).

We also offer a monthly support service that is reasonably priced and leverages our years of experience to help you build and grow your text message marketing program successfully.